HELIX and ARTICULATED beaters
To enable its valorisation the first point we need is  HOMOGENISING ITIn other words, we need to treat it in a pond so that the variability between its contents (which will always exist) is as small as possible. In addition, we need to ensure that its particles, components and in particular its units fertilisers are available in their entirety.
To go down to the pits "pivots on the tractor's own arms and raises and lowers,  by means of a hydraulic cylinder.
You can transmit much more energy to the propeller
This whisk is rigid, with an extension of  6 m long. Recommended for medium-sized farms and when the pit has a side of more than 10 mts.

It tends to have much less wear and maintenance, but with the disadvantage of only being able to work in open pits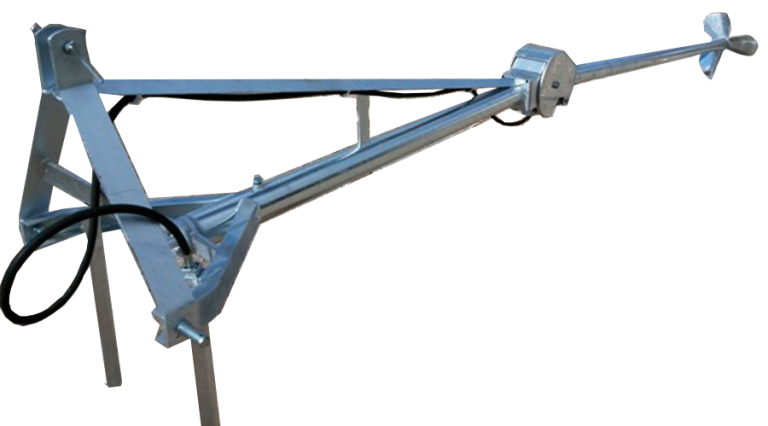 It carries a small propeller circular at the tip and a central joint for by means of a hydraulic cylinder and a cardan shaft transmission
Very useful at pits slurry covers
From small sizecan be action with a tractor of even 60- hp,
See suffer quite wear and tear in cardan-type transmissions when working at angles. A good solution for farms (and especially rafts) of small size
Pit size is top a 25-30 m on one of its sides
The hydraulic mixer sucks up slurry by means of a turbine reinforced and he relaunches it again a pit via a cannon directional.
The directional cannon allows to adjust the "focus" of the slurry gun reaching distancessuperiors at 50-60m
With a 80 hp tractor is sufficient to be able to remove a large 10-12 million litre reservoir.
Beat the raft and load the tanker
Easily transportable on your tractor, compatible with all models.
Compatible with trailer hitch and has a hydraulic turbine.
In France they are already using our products, which have been developed and assembled in our facilities in Teruel.